A refreshing milkshake is a perfect treat after a long day of shopping or during the scorching summer months in Dubai. Strawberry, chocolate, and vanilla milkshakes have been supplanted by healthier options, including vegan and protein milkshakes. This has led to generational differences in preferences.
How well versed are you on the whereabouts of the best milkshakes in Duba ?
V-Shake
V Shakes is the first to mention it. Visit V Shakes if you're looking to get in shape or if you want to try one of their delicious, all-natural shakes or smoothies. All protein shakes, fresh juices, superfood smoothies, wellness blends, acai bowls, and lattes are prepared with all-natural ingredients.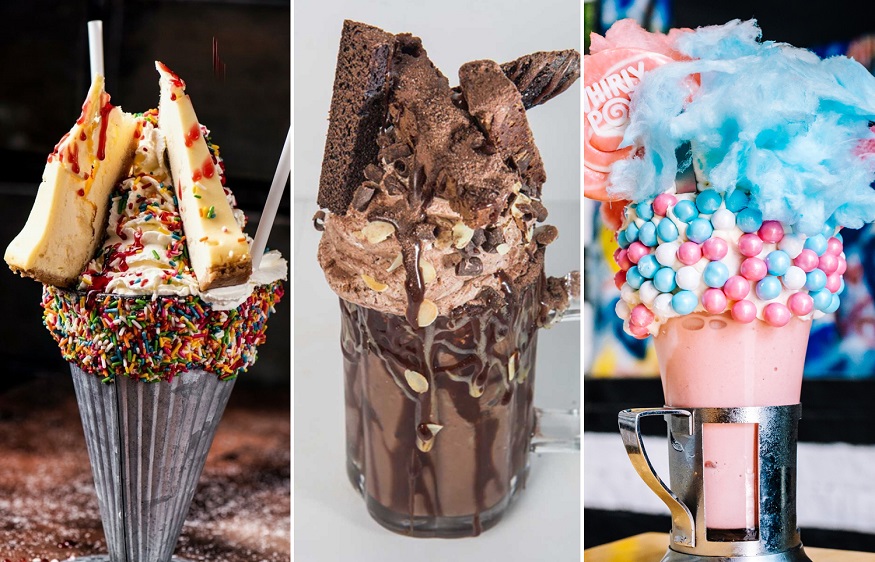 V Shake is the place with the best milkshakes in Dubai. If you care about your health, you should surely go there. You'll get a whole meal in a cup made with all-natural ingredients that contain no added sugars, artificial flavors or colors, or preservatives.
Locations:
Times Square Mall – Sheikh Zayed Road, DIFC Avenue Gate – Sheikh Zayed Road, Nakheel Mall – The Palm Jumeirah, Dubai Police Officer's Club
 Ice Lab
Ice lab offers one of the best milkshakes in Dubai. For a reasonable price, you will get delicious ice cream and milkshakes. The flavorful Bubble Gum Milkshake, the Raspberry Milkshake, the Chocolatey Galaxy, Kitkat, or Kinder Milkshake are just a few of their exciting and entertaining offerings. It is, without a doubt, one of the best Milkshake Spots in Dubai.
Locations:
Financial Center Rd, Downtown Dubai
Shake Shack
You'll undoubtedly know what's it about when you hear its name. Are you ready to Shake Shack with all kinds of milkshake flavors? Enjoy the Classic milkshake flavors, including Chocolate Cookies & Cream, Vanilla, Chocolate, Peanut Butter, Strawberry, and other tasty options. Shake Shack offers the best milkshake in Dubai. Get your favorite delicious flavors in various cups and cones, floats, cold drinks, and other treats. Shake shack is also a fast-food restaurant serving burgers, chicken, french fries, and hotdogs. As a result, it's a terrific spot to stop for a bite to eat and a beverage.
Locations:
Nakheel Mall – the Palm Jumeirah, City Centre Deira, Hills Mall, Dubai International Airport, Dubai Mall, Avenue Mall, the Beach, Mall of Emirates, Mercato Centre
Café Bateel
The authentic Mediterranean flavors at Café Bateel are a must-try, and the restaurant's innovative approach to dining is sure to impress. Café Bateel is where you may experience the centuries-old tradition of hospitality in the Arabian Peninsula.
You may get traditional milkshakes like the Date. An organic date milkshake is necessary. Café Bateel is an excellent spot to eat and have a classic milkshake. Date and pistachio are two other options besides the more common vanilla, chocolate, and strawberry.
In addition to traditional fare, they offer a unique menu of healthy and delicious drinks and cuisine from the Mediterranean. All of the dishes complement the welcoming and refined atmosphere of Dubai.
To ensure that the food at Café Bateel tastes authentic, blending modern techniques with traditional flavors, they employ ingredients explicitly created for the restaurant. Everything from the beans to the pasta to the tomato sauce to the coffee beans is lovely and good for you.
Locations:
Nakheel Mall, Dubai Mall, Dubai Festival City, Arabian Ranches, DIFC, Dubai Hills Mall, Marina Walk, Media City, Mirdif City Centre, Town Centre, Jumeirah Beach Residence, The Walk, Mall Of The Emirates – Al Barsha 1.
Conclusion
Dubai is a great place to fulfill your sweet craving. The top spots to get milkshakes that will leave you wanting more are detailed above. Don't forget to stop by these cafés and enjoy the best milkshakes in Dubai, these delicious desserts, and drinks.