A concealer is a girl's fairy godmother when it comes to makeup. A concealer can cover any natural flaws, such as spots, blemishes, discolourations, scars, and dark circles, giving you flawless skin.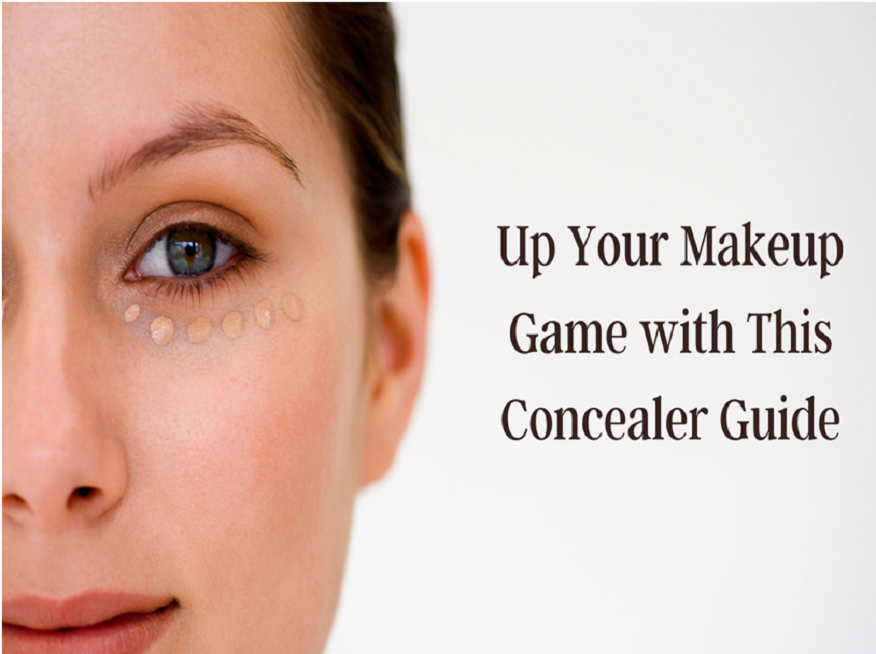 A makeup concealer may appear to be the magical solution to all your beauty woes, but using it comes with its own risks: too much of it can make your makeup look cakey, and the wrong shade can ruin your look like nothing else. While concealer application is not intuitive, it is also not rocket science. Here's a comprehensive guide to using concealers properly for flawless skin:
Foundation vs Concealer
The primary distinction between face concealer and foundation is the application method. Concealer is applied to problem areas or discolourations such as dark circles, blemishes, pimples, scars, and expression lines, whereas you must apply foundation to the entire face.
Though there is no set chronological order of foundation and concealer, applying your foundation first will allow you to use less concealer. On the other hand, if you apply concealer first, you will remove most of it while applying your foundation.
Types of Concealer
Now, it's time to learn about the varying sorts of concealers. So go ahead and select your preferred choice. 
Stick Concealer
These beauties have the appearance and functionality of lipstick. If you're looking for a concealer that's the perfect balance of liquid and cream, this is the best concealer for dry skin.
Pencil Concealer
While other formulations make it difficult to conceal the smallest nooks and crannies of your face, a pencil concealer does the job flawlessly. It's a moment to cover all of those flaws with pinpoint accuracy.
Powder Concealer
These concealers are your best bet if you have oily skin. The powder is the key to all matte concealer makeup regimens because of its easily blendable nature and capacity to deliver seamless coverage.
Liquid Concealer
It is one of the most popular concealer formulations owing to its creamy, lightweight texture. However, look no further if you want a product that provides buildable coverage.
How to Use Concealer?
Here is the only concealer makeup tutorial you'll need to win the war against scars, pigmentation, and other skin imperfections.
To begin, start with a blank canvas. Then, use a gentle face wash to remove any dirt or grime accumulated on your face.
Next, apply a light moisturiser to your face.
It's now time to apply a thin layer of face primer. A primer ensures that your base makeup lasts as long as you want.
The concealer comes next. The best way to use concealer is to apply it under your eyes in a triangle shape and then blend it away. Target acne scars, pimple marks, pigmentation around the mouth, and any other facial flaws.
Then it's time to lay the groundwork. Remember to blend whatever product you use thoroughly.
Finally, secure your foundation with a compact. To finish the look, apply eye and lip makeup.
How to Pick a Concealer?
Choosing concealers is extremely difficult. Do you want one to highlight and contour, or do you want one to cover up your blemishes, dark circles, or other imperfections? Do creamy products blend better or not on your skin? 
The two primary considerations before choosing the best one are your skin type and how you plan to use the concealer. The wrong concealer can make your skin dry, flaky, or even visually clash with your foundation, causing breakouts. So, try, test, and experiment to find the "one true concealer" that will keep your problems at bay.
Suitable for Oily Skin 
Like every other girl, you can conceal your imperfections with concealer and cover them with flawless foundation, but by noon, your face will be a glossy, sloppy, oily sap. People with oily skin have experienced terrible makeup fails and are all too aware of how crucial it is to find the ideal product.
You can choose a matte concealer like Lakme 9 to 5 Primer + Matte Liquid Concealer, which naturally gives you a matte finish, conceals blemishes, and lightens the appearance of dark circles.
Suitable for Dry Skin
Dry skin becomes dull quickly after a morning shower. And, no matter how frequently you touch up, your makeup will become flaky and patchy unless you use the right product designed specifically for dry skin.
You require a hydrating or nourishing formula, preferably one with a water base. A full-coverage yet lightweight formula may suffice. For example, use Lakme Absolute Mattreal Mousse Concealer to keep your skin illuminated and moisturised all day!
Suitable for Normal Skin 
With normal skin, you can experiment with different concealers. A non-greasy, mouse-based product will be ideal for you. You can experiment with various types, including liquids, sticks, and compacts.
It would help to choose a lightweight formula that feels good on your skin. A concealer with medium to full coverage works wonders. Maybelline New York Instant Age Rewind Eraser Dark Circles Treatment Concealer is a good option. As the name suggests, the concealer helps your skin reduce ageing signs and heal dark circles. This formula, which contains Goji berries and Haloxyl, will quickly become your favourite makeup product. The best part? It's a cute little cushion concealer brush applicator that dramatically simplifies the process!
Suitable for Ultimate Cover-Ups
Use formulas that blend seamlessly with the skin and do not interfere with the texture after applying foundation. You can use correcting concealers for specific masking purposes.
A peach colour-correcting concealer, for example, is used to conceal difficult pigmentations such as dark circles or dark ageing spots. Such concealers are typically hydrating, which is beneficial because the skin around dark spots and under your eyes tends to dry out. Faces Canada Ultime Pro HD Cover-Up Concealer is a great option.Once you've nailed your concealer shade and texture, you can experiment with different application techniques. After all, practice makes perfect! So go ahead and grab your favourite concealer online from Health & Glow. And with all of this knowledge at your disposal, you'll be a pro at concealing in no time.