Heading to the beach for a vacation is one of the most exciting events to look forward to, but picking out the right swimwear requires thoughtful consideration. With all the available options out there, it's easy to feel overwhelmed and unsure of where to start. However, fear not! In this blog, we'll guide you through choosing the right swimming costumes for your beach vacation, from understanding the different types available to identifying factors to consider, and sharing tips for trying them on.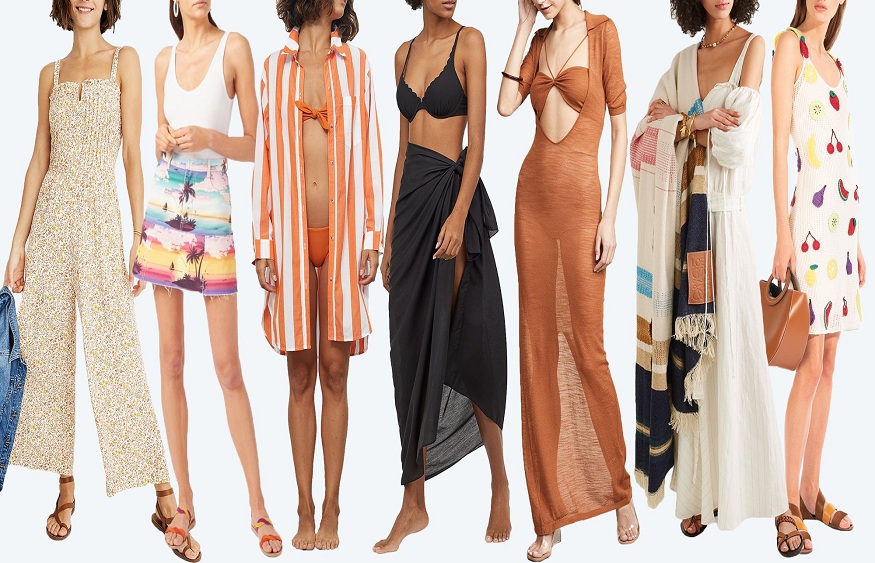 Understanding Different Types of Swimming Costumes
When it comes to swimming costumes, there are a variety of options to choose from, each with their own unique style and purpose. Whether you prefer a classic one-piece or a trendy bikini, there's a swimsuit out there that will make you feel confident and comfortable at the beach or pool.
One-Piece Swimsuits
One-piece swimsuits have been a popular choice for women for decades. They provide coverage for the midsection while still allowing you to show off your legs and arms. One-piece swimsuits come in a variety of styles, from sporty to classic to modern. Some have built-in support for added comfort and are perfect for both modest and active beach-days.
If you're looking for a swimsuit that will help create a streamlined silhouette, a one-piece is the way to go. They're also great for those who want to cover up a little more but still feel stylish and confident.
Bikinis
Bikinis are the quintessential beachwear for those who want to show off their curves and soak up the sun. They come in a variety of cuts and styles, from high-waisted to more traditional cuts. Bikinis are perfect for lounging on the sand and getting a tan, but it's important to consider your comfort level and whether or not you're comfortable in revealing cuts.
While bikinis may not be for everyone, they're a great option for those who want to feel good and confident at the beach or pool.
Tankinis
Tankinis provide more coverage than bikinis while still giving you the freedom to show off some skin. They're a great option for those who love the convenience of a two-piece while still maintaining modesty. Tankinis come in a range of styles and designs, so there's something for everyone.
If you're looking for a swimsuit that provides more coverage than a bikini but still allows you to feel stylish and comfortable, a tankini is a great choice.
Legsuits
Legsuits have been a game-changer in the world of swimwear. They have gained popularity due to their comfortable fit and unique design. Where traditional one-piece swimsuits can feel restrictive, legsuits provide a full range of motion while still keeping you covered. This is particularly important for women who want to swim or participate in water sports comfortably without worrying about their swimsuit riding up or exposing too much skin.
Plus, legsuits come in a variety of styles and shapes to flatter every body type. Whether you prefer a sporty look or a retro-inspired design, there's a legsuit out there for you. You can find them in solid colors, bold prints, and even with fun embellishments like ruffles or cutouts.
Swim Dresses and Skirtinis
Swim dresses and skirtinis are perfect options for those who want more coverage and prefer feminine styles. Swim dresses come in varying lengths, from above the knee to ankle length, and skirtinis have a skirt front cover with a shorts attached. They provide a flattering silhouette while offering comfortable coverage for lounging around at the beach or pool.
If you're looking for a swimsuit that will make you feel feminine and stylish while still providing coverage, a swim dress or skirtini is a great option.
No matter what type of swimsuit you choose, make sure it's one that makes you feel confident and comfortable. After all, the beach or pool is the perfect place to relax and have fun, so make sure you're dressed for the occasion!
Factors to Consider When Choosing a Swimming Costume
Choosing a swimming costume can be a daunting task, especially with so many options available in the market. However, certain factors can help you narrow down your choices and find the perfect swimsuit for your body type, style, and preferences.
Body Shape and Size
Your body shape and size are crucial factors to consider when choosing a swimming costume. Different styles flatter different shapes, so it's essential to know what suits your figure best. For instance, if you have an hourglass figure, you can opt for a one-piece swimsuit with a plunging neckline to accentuate your curves. On the other hand, high-waisted bikinis are great for those with pear-shaped bodies or fuller thighs, while halter necks and bandeau styles work well for those with smaller busts.
It's also essential to consider the coverage you're comfortable with. If you're not comfortable showing too much skin, you can opt for a swimsuit with more coverage, such as a one-piece or a tankini. Alternatively, if you're comfortable showing off your midriff, you can opt for a bikini or a cut-out swimsuit.
Personal Style and Preferences
Your personal sense of style and preferences also play a vital role in choosing the right swimwear. It's always advisable to choose something that reflects your personality and feels comfortable. For instance, if you love bright colors, go for a bold swimsuit, if not, opt for a more subdued look. You can also experiment with different prints, patterns, and textures to find what suits you best.
Another factor to consider is the occasion you're wearing the swimsuit for. If you're going for a casual swim, you can opt for a more relaxed and comfortable style. However, if you're going to a pool party or a beach vacation, you can choose a more stylish and trendy swimsuit that makes a statement.
Comfort and Fit
Comfort and fit are equally important factors to consider when choosing swimming costumes. Swimwear that fits properly helps to accentuate your body shape while providing the necessary support and coverage. Ensure you try on various sizes to find what suits you best. It's also best to invest in bathing suits made from high-quality materials that offer flexibility, durability, and breathability.
Another aspect to consider is the straps and closures of the swimsuit. If you have a larger bust, you can opt for a swimsuit with thicker straps or an underwire for added support. Similarly, if you have narrower shoulders, you can choose a swimsuit with adjustable straps to ensure a comfortable and secure fit.
Material and Durability
The material and durability of your swimsuit can significantly affect your comfort and longevity of your beach vacation. Choosing swimsuits made from material like spandex and nylon can provide ample stretch and resistance to damage from exposure to chlorine, saltwater, and other harmful factors.
It's also essential to consider the care instructions for your swimsuit. Some materials require special care, such as hand washing or air-drying, to maintain their quality and shape. Therefore, it's best to read the care label before purchasing a swimsuit to ensure you can maintain it properly.
Sun Protection
Finally, it's important to choose swimming costumes that offer sufficient sun protection to shield your body from the harmful UV radiation. Look for swimwear labeled with a UPF rating (Ultraviolet Protection Factor) and that covers critical parts such as the shoulders and chest. This feature is especially important to consider if you're planning on spending the entire day outdoors.
Overall, choosing the right swimming costume requires careful consideration of various factors. By keeping these factors in mind, you can find a swimsuit that not only looks great but also feels comfortable and functional.
Tips for Trying on Swimming Costumes
Trying on swimming costumes can be a daunting task, but with the right tips, it can be a breeze. Here are some additional details to consider when shopping for the perfect swimwear:
Sizing and Measurements
Before you start trying on swimming costumes, it's essential to take your accurate measurements. This will help you choose the right size and avoid any discomfort or embarrassment on the beach. You can use a measuring tape to measure your bust, waist, and hips and compare them to the size chart from the manufacturer.
It's important to note that different brands may have different sizing, so don't assume that you wear the same size across the board. Always check the size chart before making a purchase, especially if you're buying swimwear online.
Assessing the Fit
The fit of your swimwear is crucial for both comfort and appearance. When trying on swimming costumes, pay attention to how they fit in the areas you want to showcase and the areas you want to cover up. You don't want to be constantly adjusting your swimsuit while on the beach.
Consider styles that offer optimal support to your bust, back, and midsection. If you're looking for more coverage, try a one-piece swimsuit or a tankini. If you're looking to show off your curves, try a bikini or a high-waisted bottom.
Checking for Support and Coverage
When trying on swimming costumes, make sure to check for sufficient coverage and support. If you have a larger bust, look for styles that offer underwire or molded cups for added support. If you're looking for more coverage in the midsection, try a swimsuit with ruching or a high-waisted bottom.
It's also important to consider the straps of your swimwear. Look for styles that give you the flexibility to adjust or remove straps if needed. This will allow you to customize the fit to your liking and avoid any discomfort or irritation.
Evaluating Comfort and Mobility
The comfort and mobility of your swimwear are critical for a fun and carefree beach vacation. When trying on swimming costumes, make sure to move around and test the flexibility of the fabric. You want to ensure that your swimsuit gives you the necessary freedom of movement to swim, play, and relax without feeling restricted.
Consider the material of your swimwear as well. Some fabrics may be more comfortable than others, so it's always a good idea to try on different styles and see which one feels the best on your skin.
With these tips in mind and a plethora of beach-ready styles available in the market today, selecting your favorite swimming costume for your vacation should be a breeze. Whether it's a bold bikini, a classic one-piece, or comfy board shorts, the right swimwear should make you feel confident, comfortable, and ready to take on the beach with ease.